RP System (for metals/electronic components)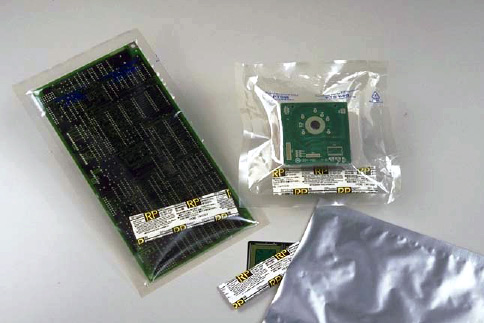 The RP System is a strategic packaging for industrial supplier who hopes to avoid customer's claim such as discoloration, moisture absorption, oxidation, less bondability and / or solderablity and etc during transportation and storage. Getting influence of atmosphere, oxidation and moisture absorption typically causes these complaints.

RP System creates oxygen and moisture free condition inside of a hermetically sealed high gas barrier bag; in other ward there is only dry nitrogen in side of the RP packaging. Therefore, there are no quality deterioration during transportation, especially overseas, or long-term storage. Theory of RP System is very simple and strong, no metal deterioration under oxygen and moisture free condition, therefore application is very wide, for example electronic components, package substrates, mechanical parts, raw materials and furthermore archaeological / cultural assets. RP System product, RP agents, PTS bag and Al bag, comply RoHS Regulation.
The advantages of RP System
Customer's claim free
The RP system maintains your product quality just after production until using at the customer. If your products get damage by moisture or oxygen, such as delamination, less soldering or bonding, discoloration, moisture absorption and etc during transportation, RP system is the best solution.

Long term storage of devices /PCB
Some customer request a long term supply of maintenance parts. However, it is quite difficult, almost impossible to continue production in spite of small sales volume. RP system solves this serious problem. Divide final production / purchasing lot into a small portion, then packed by RP system. These products are able to sell long after the production date. With respect to the long-term storage of electronic devices, please refer to the GEIA-STD-0003, US Gorvernment Electronic and Information Technology's Association.

Rust proof oil / Chemical free
If Rust proof oil, paper, film or chemical(VCI) makes no satisfaction, try RP system. RP system is applicable both transportation by boat and long-term storage without rust / tarnish. Also cleaning process is not required prior to use.
RP Agent Product Information
Type
Size (mm)
Air Volumn (ml)
Quantity
(Sachets x Bags)
Outward Appearance
Oygen Absorbing Desiccant
RP-1A
28×55
100
1000
(25×40)
RP-3A
35×120
300
1,000
(25×40)
RP-5A
51×120
500
1,000
(25×40)
RP-20A
100×130
2,000
250
(10×25)
Moisture Independent Oxygen Absorber
RP-3K
35x120
300
1,000
(25×40)
RP-20K
100x130
2,000
100
(5×20)
3. Example of Cultivation
Examples of cultivation using rectangular jars with compartment / Example of cultivation using pouch